Det populære skirmish-figurspil fra Privateer Press!

HORDES giver dig kontrol over mægtige Warlocks og deres Warbeasts - foruden alle mulige særlige enheder - alle klar til at slå dine modstandere ned!

Play like you've got a pair!

Se desuden Warmachine her!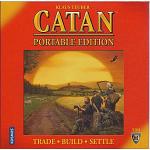 The Settlers of Catan: Portable Edition - Board Game
335,00 kr.
249,00 kr.